I was asked the other day what can be learned from the possible merger of GM and Chrysler. Specifically,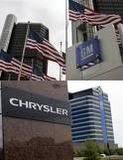 what might this union of giants teach the M&A market lower down the food chain?
As I've said elsewhere, this is a time when corporate mergers can appeal to those struggling with a hostile economic climate. Reducing competitive pressure, cutting costs, gaining market share… All seem like good outcomes when two players in the same market consider forming a single new entity.
My concern about the GM-Chrysler engagement is that it models a marriage based on weakness. Both companies are in trouble, and in my experience two failures don't make a success. The underlying problem is that mergers of this kind are driven by an agenda to cut costs. No company grew rich on that agenda alone. To win the business game, you have to keep developing new products or finding new markets — or both.
On the positive side, a merger of this kind can buy you time. That may be good enough reason for the auto makers to tie the knot. But only if they immediately launch a proactive campaign of true innovation in products and/or marketing.
And that should be happening anyway.